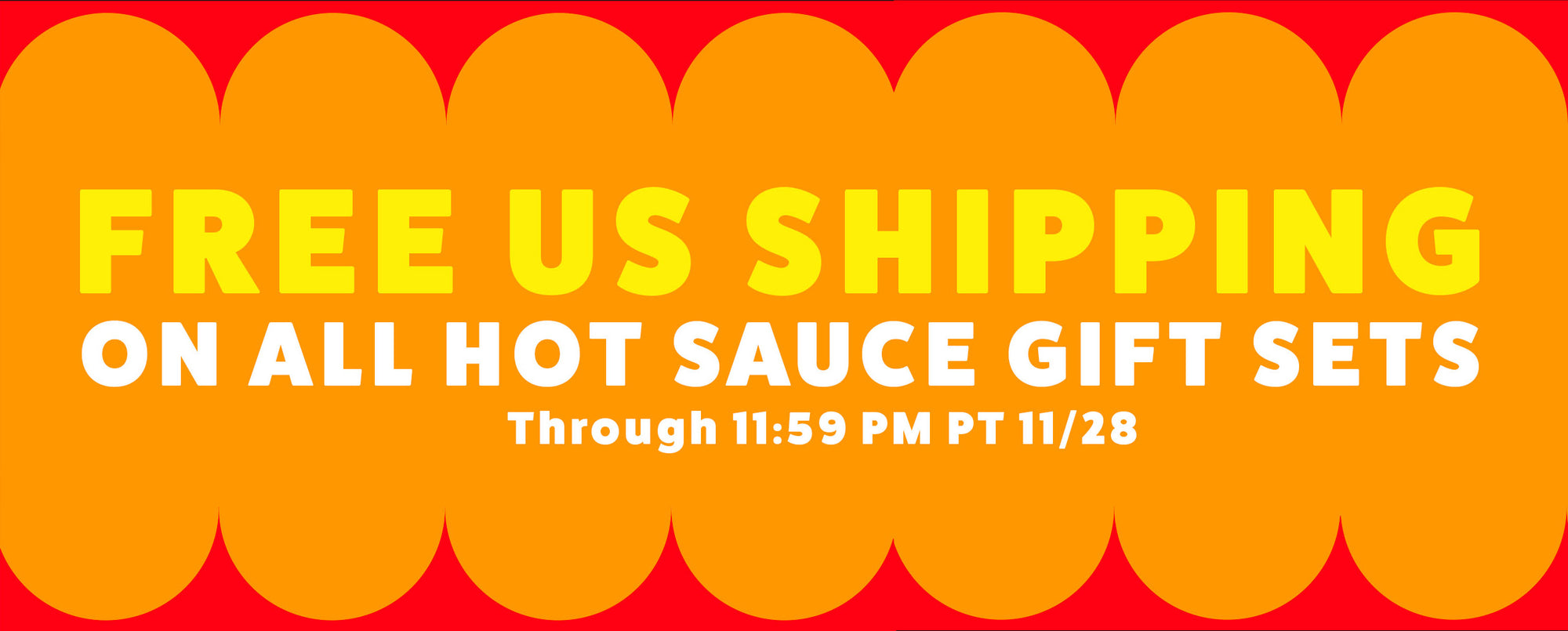 HEATONIST CYBER MONDAY 2022
HEATONIST CYBER MONDAY HOT SAUCE SPECIALS
heatonist exclusives - new hot sauce flavors - the best hot sauce gift packs
Fresh new gifts for hot sauce lovers!
SHOP HOT ONES CYBER MONDAY
Hot gifts from the show with hot questions and even hotter wings.
HOTTEST GIFTS OF THE SEASON
Hot Ones Jr. Trio
Hot Ones Jr. Trio
From the show with hot questions and hotter wings, Hot Ones Jr. is the first hot sauce line for kids! It started with the creation of Hot Ones Jr. The Green, and kids couldn't get enough of the supermild heat and fresh flavor! So we created a full line of hot sauces just for small spice lovers and those new to spice, featuring delicious fruits and veggies that are kid-friendly and parent-approved. Made with high quality, all natural fruits and veggies and no added sugar, this set is the ultimate hot sauce gift set for adventurous eaters, young Hot Ones fans, and fiery families! Share the Hot Ones tradition. ❤️
$30.00
More Info
Hot Sauce Trio: Chicken, Burger & Taco Sauces
Hot Sauce Trio: Chicken, Burger & Taco Sauces
When Try Guys' Keith Habersberger first approached us about creating a hot sauce based on his love of fried chicken, buffalo and ranch, we knew he was on to something. Fans couldn't get enough of Keith's Chicken Sauce for its tangy flavor and not-too-hot spice level. But that was just the opening chapter of Keith's hot sauce story. Introducing the ultimate tasty trio of Keith's Hot Sauces: Keith's Burger Sauce makes any burger a Habersburger with its sweet mustard base, while the newest addition, Keith's Taco Sauce, takes taco night to new heights with jalapenos, raisins and citrus. This pack is full of versatile flavors that are as delicious on their namesakes as they are on other stuff, meaning Keith has you covered for all your favorite meals. And the not-too-hot heat level means they're perfect for spice novices and flavor hounds alike.
$33.00
More Info
Dustin Poirier's Louisiana Style Hot Sauce Trio
by
Dustin Poirier's Louisiana Style
Dustin Poirier's Louisiana Style Hot Sauce Trio
by
Dustin Poirier's Louisiana Style
The triple threat of Louisiana flavor: Featuring Poirier's original Louisiana Style, our new smoky-sweet Creole Maple, and the spicier K.O. Edition, Poirier's Louisiana Style Hot Sauce Trio delivers a range of heat levels and flavors, all with Cajun kick! UFC fan favorite Dustin "The Diamond" Poirier channeled his Acadiana roots to create these modern sauces based on the Louisiana-style hot sauce he grew up loving. Like all great Louisiana style sauces, they start with an aged cayenne pepper base and high quality vinegar. This trifecta of fiery flavor makes the ultimate gift for UFC fans, hot sauce lovers, Southern food aficionados, folks trying to build their heat tolerance… the list goes on.
Poirier's Louisiana Style is the Official Hot Sauce of UFC!
$33.00
More Info
Everything Bagel Hot Sauce 2 Pack
by
Secret Handshake Food Co
Everything Bagel Hot Sauce 2 Pack
by
Secret Handshake Food Co
Everyone's favorite bagel order, the Everything Bagel was invented sometime between 1973 and 1980 in Queens or maybe Scarsdale, New York. While its origins are disputed, its popularity is decidedly not. We took everything you know and love about the bagel and bottled it, creating a hot sauce phenomenon that sold out shortly after launch. Now you can stock up on spice lovers' favorite breakfast hot sauce with two bottles of our Everything Bagel Hot Sauce. Double the garlic, double the onion, double the poppy seed, double the Everything! With its medium-hot, subtly building sting from Scorpion pepper powder, you'll go through multiple bottles of this sauce quickly (trust us)! Add a dab to everything from BEC sandwiches to salmon to pizza to seriously up the flavor factor. You'll be surprised how versatile this mix is!
$18.00
More Info
HEATONIST CYBER MONDAY FAQs
HEATONIST Cyber Monday free shipping will be applied automatically in the cart - no promo code needed! As long as you have at least one gift pack in your order and have entered a U.S. shipping address, you should see free shipping show up at check out. Please note that hot sauce subscriptions are not considered gift packs. Questions? Please reach out or email us at ilovehotsauce@heatonist.com and we're happy to help.
Here at HEATONIST, we work exclusively with small-batch hot sauce makers. That means all the hot sauces we carry are made by hand with high-quality ingredients and support small business owners. We don't offer coupon codes on Black Friday and Cyber Monday because we try not to discount their hard work, but we are offering some hot perks...
Cyber Monday Deal: Orders with hot sauce gift packs ship free in the U.S.
Always Running:
-Free US shipping on orders $60+! 
-Discounts using rewards perks for returning customers (sign in to rewards to take advantage of the bonus bottles module above!)
-Referral discount for first-time orderers
Our hot sauce gift packs have been carefully curated to feature hot sauces that highlight unique peppers and special ingredients, are full of flavor and come packed in HEATONIST gift boxes. With people-pleasing heat levels and real ingredients that make food taste great, they make an awesome gift for hot sauce lovers. Start shopping packs.
All our hot sauces are small-batch, made by hand with thoughtful ingredients and pepper, so quantities can be limited. Get them while they're hot! Quantities of our special gift packed Hot Ones 10 Pack are limited. 
A hot sauce gift pack order placed on Black Friday / Cyber Monday should ship within 2 business days, and typically take about 2-4 days to arrive to destinations in the US. International ship times vary and are detailed at checkout. With the influx of ordering around the holidays, couriers can sometimes get delayed, so thank you in advance for your patience! Good news is: now is the best time to sauce up for the holidays!
We pack all our hot sauces in our specially designed HEATONIST gift boxes with no-price receipts. The Hot Ones 10 Pack comes in its own 10-sauce gift box with the Hot Ones logo.  Don't worry though - your entire order will come in outer shipping packaging that won't reveal your awesome sauce gift hidden inside! 
HEATONIST started in 2013 as a Brooklyn-based push cart and has kept on rolling ever since! We opened our first tasting room in Brooklyn, New York in 2014, then started partnering with the Hot Ones team to specially curate their hot sauce lineups. In 2017, we opened our Chelsea Market Outpost in Manhattan and started selling our high quality, flavor-packed hot sauces on the internet. The rest is history! Since then, we've continued to add special partnerships with athletes, comedians, musicians and personalities including Keith Habersberger of the Try Guys, Dustin Poirier, Secret Handshake Food Co and more. We are also the exclusive home of the Hot Ones Box hot sauce subscription.