HEATONIST Anniversary Hot Sauce Pack - Salty, Tangy, Sweet
by

HEATONIST

1 Review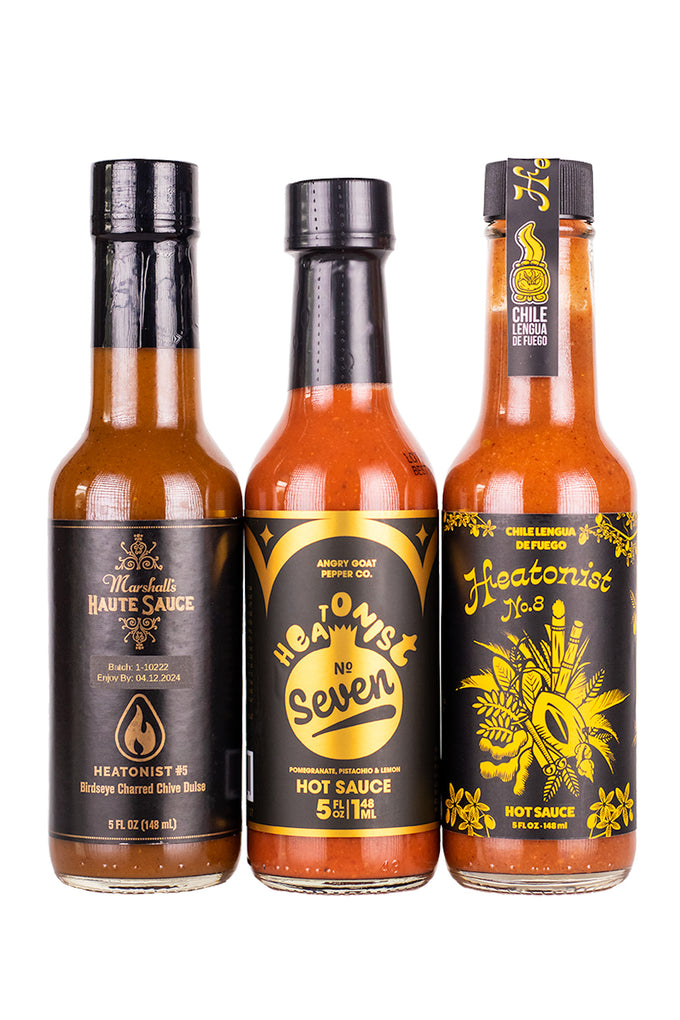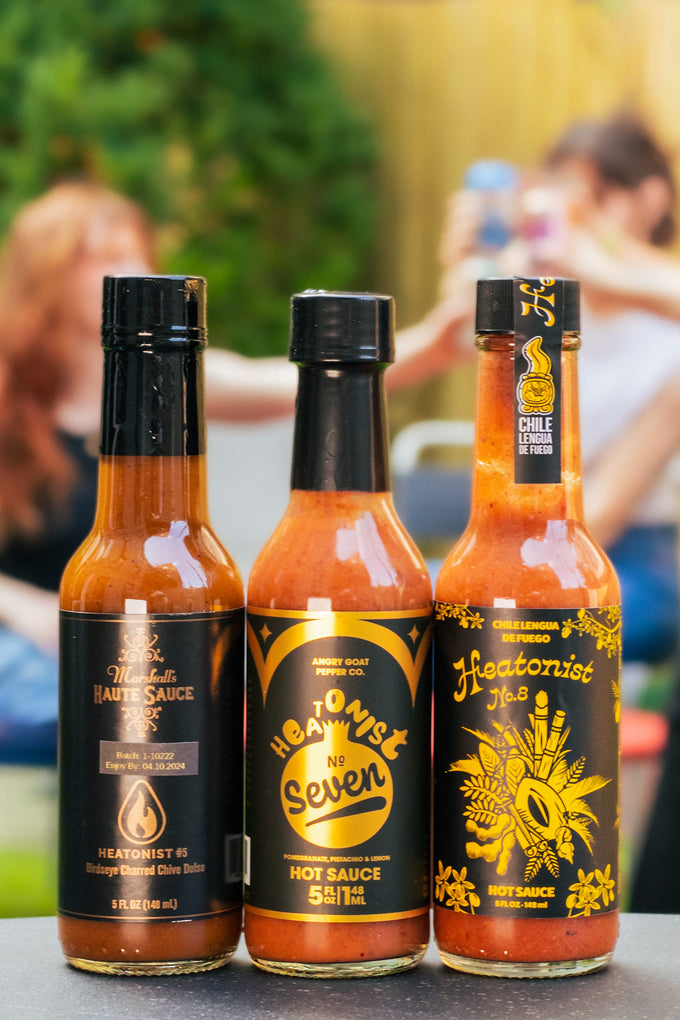 Pack Info
Calling all hot sauce lovers! Toast your taste buds with three of our signature HEATONIST anniversary sauces in one pack. The gold standard of all-natural sauces, they're crafted with unique combinations of high quality ingredients that make them truly one-of-a-kind. This trifecta of flavor features briny and bright HEATONIST No. 5 Birdseye Charred Chive Dulse, sour and tangy HEATONIST No. Seven Hot Sauce Pomegranate Pistachio Lemon and our latest creation in partnership with Chile Lengua de Fuego, sweet and tropical HEATONIST No. 8. Chosen for their wide spectrum of taste profiles, these sauces are ideal for the hot sauce connoisseur or the epicurean exploring new cuisines. 
Included Sauces
HEATONIST No. Seven Hot Sauce | Angry Goat Pepper Co CONTAINS TREE NUTS (Pistachio Nuts) Heat: 3 / 10 Ingredients: Distilled vinegar, beets, red serrano pepper mash (peppers, vinegar), pomegranate juice, pistachio nuts, sea salt, caraway seeds, white pepper Size: 5 fl oz
HEATONIST No. 8 | Chile Lengua de Fuego Heat: 3.5 / 10 Ingredients: Zapote Puree, Bitter Orange Pulp, White & Dark Rum, Apple Cider Vinegar, Water, Salt, Passion Fruit Concentrate, Tamarind Concentrate, Scotch Bonnet Pepper Puree, Annatto Powder, Ginger, Chili Pepper Powder, Cinnamon, Allspice Size: 5 oz
Heatonist No. 5 - Birdseye Charred Chive Dulse Hot Sauce | Marshall's Haute Sauce Heat: 4 / 10 Ingredients: Rice vinegar, distilled vinegar, liquid aminos (vegetable protein from NON-GMO soybeans and purified water), organic white miso (soybeans, rice koji (rice, koji spores [aspergillus oryzae]), sea salt, water), roasted garlic, lime juice, pineapple, charred garlic chives, Bird's Eye chile peppers, rice cooking wine (water, rice, salt), coriander seeds, ginger, black sesame seeds, Jacobsen sea salt, dulse seaweed Size: 5 fl oz
Reviews
Fetching reviews!