Hot Ones Season 22 Warmup Pack
by

Hot Ones Hot Sauce

1 Review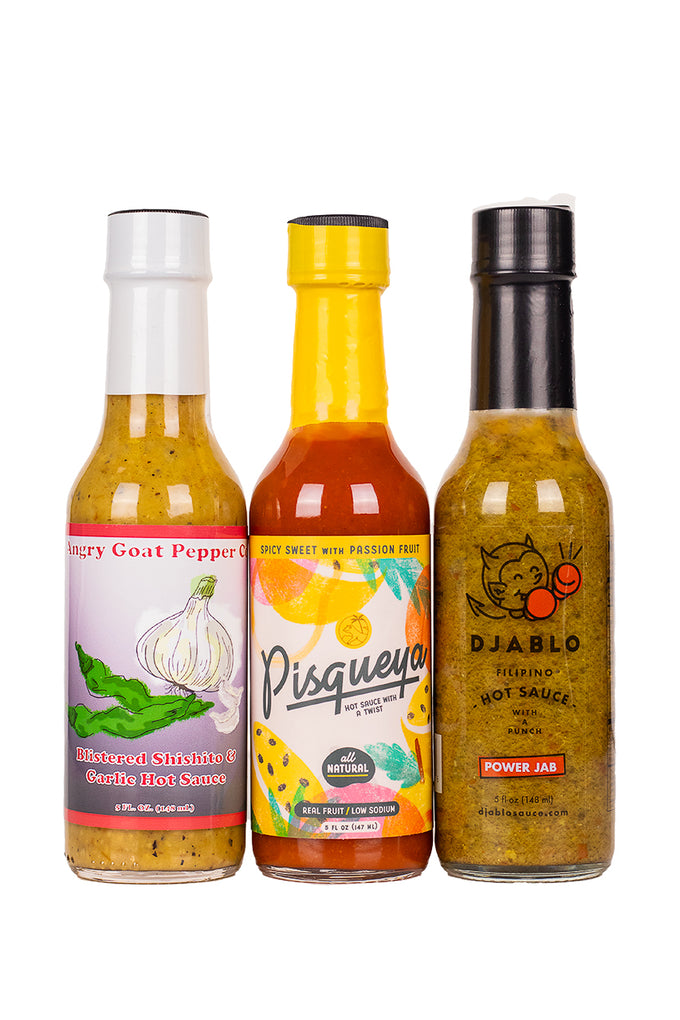 Pack Info
This hot sauce gift set features the mild hot sauce array from the Hot Ones Season 22 lineup. With some of our diverse flavor profiles yet, it features small-batch hot sauces ranging from savory to sweet and aromatic. Maxing out at 5/10, this is the perfect pack for mild hot sauce lovers, new Hot Ones fans and epicurean Spice Lords.
Included Sauces
Blistered Shishito & Garlic Hot Sauce | Angry Goat Pepper Co Heat: 2 / 10 Ingredients: Blistered shishito mash (peppers, vinegar), distilled vinegar, olive oil, green jalapeño mash (peppers, vinegar), Vermont maple syrup, dried minced garlic, sea salt Size: 5oz
Spicy Sweet Passion Fruit | Pisqueya Heat: 3 / 10 Ingredients: Passion fruit, chili peppers, carrot, lemon juice, garlic, organic sugar, kosher salt Size: 5oz
Power Jab Hot Sauce | DJABLO Sauce Heat: 5 / 10 Ingredients: Cane vinegar (cane vinegar, water, and clouding agent (coconut oil emulsion) infused with ginger), serrano pepper, fresh garlic, olive oil, agave, ginger, Thai chile flake, ground chia seed, salt, dried scorpion pepper, spirulina Size: 5oz
Reviews
Fetching reviews!
Frequently Purchased With